The name of this company is Sukhant Funeral Management. All the facilities offered by the company have been displayed in the trade fair.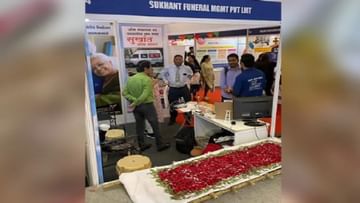 Image Credit Source: MoneyMattere.com
New Delhi: It is not possible to enter the market with any facility just to start the business. for where you do business (Businessgoing to do, it is expected to see what are the needs of those people, what are the real problems of the society there. Anticipating the need of such people, a new start-up has been launched. by startup (start up) are getting great reviews just by looking at the facilities offered. Other countries have such facilities. But so far no one in India has provided such a facility in this area, so people are expressing surprise. So the name of this startup is Funeral and Death Service (funeral and death,
After the death of a person, the entire arrangement for his last rites will be done by this company. Then tying the tirdi, bringing all the materials related to it, calling Guruji or barber etc. everything comes in this package.
It will sound a little different. But this facility is usually given in Japan or other European countries. It has just started in India.
This unique startup had a stall in the trade fair of Delhi. Since then it has been in great discussion. A tirdi covered with flowers was placed in the exhibition. This picture is creating a lot of buzz on social media.
"Sukhant Funeral & Management Pvt Ltd" has been awarded the "Outstanding Business Achievement" award by Honorable Industries Minister of Maharashtra State at the Business Fair 2022. We are very grateful to the Lakshwadh family for this award. pic.twitter.com/yz38pgJNJN

— Sukhant Funeral Service (@SukhantFuneral) November 15, 2022
The name of this company is Sukhant Funeral Management. All the facilities offered by the company have been displayed in the trade fair. Decorated tirdi, four shoulders i.e. four men to lift it, people chanting 'Ram Naam Satya Hai', not only this, the facility of cremation will also be provided by the company. The cost of this complete package is Rs 37,500.
Pictures from Delhi's trade fair are going viral on social media. Someone says, the management company after death, it has to be said. So someone says… God.. Now this remains to be seen…
Sukhant Funeral is a new startup @SukantFuneral It operates in and around Mumbai for Rs 37500. Arthi, Pandit-Barber, Ashtya Visarjan who walk shoulder to shoulder also do. Since 2017, 5000 cases have been wrongly disposed of. Now the stall set up in Delhi's trade fair is attracting attention. pic.twitter.com/8gUa7vcnGJ

— Rajeev Jain (@rjainjpr) November 19, 2022
This startup can play an important role for people living in split or nuclear family system. Also, in a disaster like Corona, many people would be in dire need of such a facility. Realizing this need, Sukhant Funeral Management has been started.
Sanjay Ramgude, director and co-founder of Sukhant Funeral Management spoke to TV9. He said, we do the entire planning of the last rites. About 5000 people have been given this facility so far. Currently this facility is available in Mumbai, Thane and Navi Mumbai. We are preparing to open branches in all cities of India very soon.
We are thinking of giving franchisees to people. Emergency cremation costs 8 to 12 thousand. But if the cremation is done properly, the cost goes up to Rs 40,000, said Sanjay Ramgude.


For more Business updates, Click here.