Wheat | To bring the prices of wheat under control, the central government had banned the export of wheat in May. But by then a huge stock had run out. Now the fear of rising inflation is looming.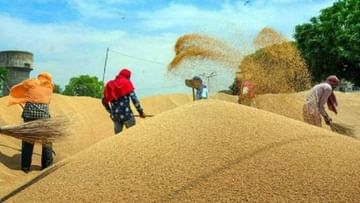 Will hoarders cause prices to rise?
Image Credit Source: Social Media
New Delhi : wheat prices in the country (wheat price) Central government to bring it under control (Central Government) Had to exercise a lot. Wheat export banned in May (export ban) Had to add But by then a large stock had gone out of the country. Now there is a possibility of increase in prices during the festive season.
The government could not control the prices of wheat this year. The price of wheat rose by Rs 7 to Rs 12 per kg. Due to this common people became impatient while buying wheat. This is the first time that the price of wheat has increased so much. So people expressed their anger.
The retail price of wheat has increased by 19 percent as compared to last year. Last year the price of wheat was in the range of Rs 23 to 26. This year it has reached close to Rs 31 to 34. As a result, door-to-door grain buyers were affected on the eve of summer.
There was also a tremendous jump in the prices of wheat flour. 18 percent increase in the prices of wheat flour At present, wheat flour is being sold at Rs 36 per kg. Last year this price was around Rs 29. That is, there has been an increase of Rs 7 per kg. This price increase is huge for a quadruple family.
A statement by Food Secretary Sudhanshu Pandey has now raised concerns. According to him, there is a bumper stock of wheat in the country. of Food Corporation of India(FCIGodavan has 24 million tonnes of wheat reserves. If there is a stock of wheat in the country, then why worry?
According to the Union Food Secretary, traders and middlemen have stocked wheat in the country. These stocks are likely to boost wheat prices. He has warned that the government will take strict action against hoarders. But common people hope that by then it will not be too late.
Despite the adverse circumstances, the central government estimates that the production of wheat will be good. The government estimates that 105 million tonnes of wheat will be produced in this Rabi season. This year 45 lakh tonnes of wheat has been exported before the ban.

For more Business updates, Click here.