Vehicle Scraping | If you are still using Juni car after 15 years then this news is for you. The government has come up with a special scrapping policy for you. This policy will benefit you a lot while buying a new car.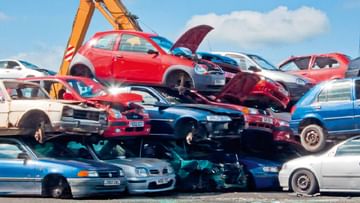 benefits of scraping
Image Credit Source: Social Media
Vehicle Scraping | If you are still over 15 years old, the car (Vehicle) If you are using this news for yourself. Government's special vehicle scrapping policy for you (vehicle scraping) Special discount for you when buying a new car (Discount) Take it But it has other advantages.
3 centers in each district
Union Transport Minister Nitin Gadkari made a new announcement to effectively implement the scrapping policy. Accordingly, now 3 scrapping centers will be set up in every district of the country. So that the congestion of the drivers can be avoided.
fitness test
As per scrap policy, (Vehicle Scraping Policy) Old vehicles will have a fitness test, it will test engine capacity, fuel efficiency, safety parameters.
then cancel the registration
You tested old cars under the junk policy. If the vehicle fails the test, the vehicle's registration will be cancelled.
What is the policy?
As per vehicle scrap policy(Vehicle Scraping Policy) There will be a fitness test for commercial vehicles older than 10 years and private vehicles older than 15 years.
so grace period
If you pass the fitness test, you are allowed to drive for a few more years.
If the vehicle fails..
in this fitness test (fitness test) If the vehicle gets damaged then you will have to scrap the vehicle at a registered scrapping centre. Here the scrapping certificate is issued to the vehicle owner. It is valid for 2 years.
Buying a new car will be cheaper
After paying for Juni Car Scraping you get a number of benefits like certificate based. Either way, you have made a significant contribution to reducing pollution. You get an additional 5 percent off on buying a new vehicle. For registration of new vehicle (Vehicle Registration Policy) You don't even have to pay a single rupee.
Exemption from road transport tax
Apart from this, the state government gives 25 percent concession for private vehicle owners and 15 percent for commercial vehicle owners under this policy.

For more Business updates, Click here.