A B.Com graduate in Lucknow quit his job and started a tea stall. Why is this cup of tea in discussion? trace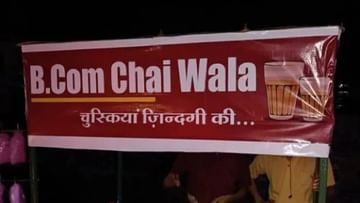 BCom Chhawla
Image Credit Source: Social Media
Lucknow, Presently B.Com Chaiwala in capital Lucknow (B.Com Chaiwala) It is becoming very popular among the youth. The name of this young man is Dheeraj Yadav. Dheeraj Yadav, 22, parks a small car on the side of the road between Babu Banarasi Das and Polytechnic intersection. B.Com "Chai ki Chuskia" Its name itself is attracting people. Dheeraj, a resident of Kushinagar, told that after doing B.Com from Lucknow, he started working as a salesman in a small company. He was working there on a monthly salary of Rs.8,000. There was a lot of pressure on the officers at the workplace, and not only this, when they had to go home, they did not even get leave.
What will People Say?
Tired of all this, he quit his job as a salesman and returned to his home in Kushinagar. There he told his family that he wanted to open a tea stall. The family refused to set up a tapri in Kushinagar as people would laugh if acquaintances came to know that the boy was selling tea after doing B.Com. So he decided to pour tea in Lucknow. After this he went to Lucknow. With whatever savings he had, he bought a car and other things and has been running a tea tapri named Bkom Chaiwala for the last 4 months. Babu Banarasi Das or all the students of other nearby institutions come to him to have tea.
How much is revenue?
Dheeraj earns an average of Rs 2,500 a day selling tea. That is, he earns more than 60 thousand rupees in a month, which is many times more than the salary of a salesman. Dheeraj said that he wants to take this industry forward through startups in future. He sets up his shop here from 5:00 am to 10:00 pm.
sells three types of tea
Dheeraj makes three types of tea. The first tea is Pan Masala Chai which costs Rs.20. The cost of another cardamom tea is Rs 15 and the cost of masala tea is Rs 25.
For more Business updates, Click here.