Share: Iron becomes gold when Parisa touches it! Something similar is happening in the market as well.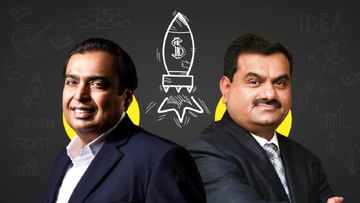 market share
Image Credit Source: Social Media
New Delhi : Gautam Adani is the third richest person in the world (Gautam Adani) A company's stock as they enter (inventory) It has touched the sky. This stock is moving at rocket speed. Adani is not alone in this competition, but Mukesh Ambani is another rich man of Asia. (Mukesh Ambani) These are also included. A total of 15 giant conglomerates are in the race to pull the company down and buy it.
So it's not that you haven't heard of Big Bazaar, a brand that has contributed a lot in uprooting the mall culture in India. Many giants have entered the market to acquire Future Retail, the parent company of this company.
Earlier, only Reliance Industries Limited was in the race for future retail purchase. But now the match is over. Because Gautam Adani has also been entered in this competition. That's why this stock has taken a tremendous jump in the stock market.
Future Retail Group is now insolvent. The company has debts from several big creditors. The group needs a huge amount of money to pay it off. For that this company has been put up for sale.
Many companies of the world are eager to buy this company. There is a tremendous tug of war going on between Adani and Ambani. Along with these two April Moon Retail Pvt is a global brand and 13 other companies are also in competition.
Since the entry of Gautam Adani in this buying process, this stock has been a bullish trend in the stock market. Future Retail Part of it continues to be built on the Upper Circuit. The stock has given up all its losses since Monday.
This stock has seen an increase of 4.29 percent. At present, this stock, which was cold in the market for many days, has climbed in one stroke. The stock is currently trading at Rs 3.65. But the process of delisting from the stock market continues.
Even today, when the name of Super Market comes, the name of Big Bazaar comes first. Initially, this name of the Indians is very familiar. Big Bazaar's parent company, Future Retail, is reeling under debt.
Given the debt pile on Future Retail, the company is unlikely to bounce back. So now this company has been put up for sale. At present, the company has a debt of over Rs 21,000 crore.
For more Business updates, Click here.