Petrol Price: Why are the prices of petrol and diesel likely to increase in the country?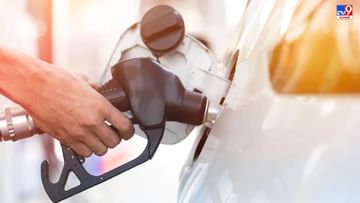 Will prices go up?
Image Credit Source: Social Media
New Delhi : Petrol and diesel prices in the country (Petrol-Diesel Price) It is expected to increase. According to media reports, Russia's policy (Russian policy) Maybe this is the cause. Of course, the Russia-Ukraine war (Russia-Ukraine War) Since the flare-up, India has become Russia's biggest oil importer. This policy of Russia is likely to increase domestic fuel consumption.
The world community imposed sanctions on Russia during the Russia-Ukraine war. Therefore, to keep the economy strong, Russia started selling cheap crude oil. Along with India, China also got the biggest benefit of this.
This cheap fuel is being supplied to India since March. But now there are indications that this facility is not going to continue for long. Russia is considering capping crude oil i.e. charging a fixed price. There is a possibility of its impact on the Indian economy.
If Russia takes such a decision, the prices of crude oil will skyrocket. Indian oil producing companies have to buy fuel at expensive prices. Due to this, there is a possibility of increasing the prices of petrol and diesel in the country. Once again the fear of getting the pockets of common people cut is haunting.
of mint (mint) According to reports, Russia will sell crude oil to European countries at the rate of $65 to $70 per barrel. The policy regarding this (cap on the price of Russian crude oil) has been formulated by Russia. This will benefit Russia's income.
Russia has to spend a lot on oil production. Crude oil has to be sold cheaply. Higher price cap on Russian oil to offset this cost (high value cap) considering adding.
But currently Russia is supplying cheap, subsidized crude oil to India as well as China. Russia is said to have set the highest price range for a European nation. So how much it affects India will be known soon.
European countries are considering limiting crude oil prices globally. European countries are also insisting on limiting Russia's income. These countries believe that Russia will reduce its attacks on Ukraine if the logistics are reduced.

For more Business updates, Click here.