Petrol-Diesel Price: There is talk of falling again in the prices of petrol-diesel .. Let us understand the reasons behind this ..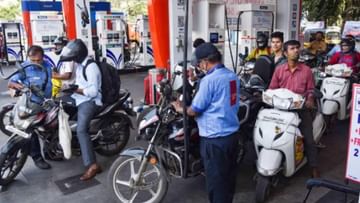 Will good days come?
Image Credit Source: Social Media
New Delhi : Crude oil prices in the international market for the last 10 months (Crude oil price in the international market) There has been a huge decline. brent crude oil price (Price of Brent Crude Oil) It has declined by more than 35 percent. Due to this, experts in this field will soon increase the prices of petrol and diesel in the country. (Price of petrol and diesel) Decline is expected.
If experts are to be believed, the price of Brent crude oil is likely to reach $82 in the coming days. This is likely to bring down the prices of petrol and diesel in India. According to an estimate, this price may fall by Rs.
If we look at the last 10 months, there has been a drop of 35 percent in the price of crude oil. On March 7, the price of Brent crude oil was $ 139.13 per barrel. After that, Brent crude oil fell by $ 37 per barrel.
wti On March 7, the price of crude oil was $130.50 per barrel. Now this rate has come down to $80.41 per baler. Meanwhile, the price of WTI has fallen by 38 percent. Let's look at some of these past reasons.
1. Big companies around the world are planning to liquidate their old hedge funds at the end of the year. Hence the demand for crude oil decreases. Its effect is visible in the market.
2. US stocks and shale have been on a winning streak. As a result, the supply has become more than the demand. Therefore, there is a possibility of a fall in the price of crude oil in the market in the near future.
3. Kovid has again raised its head in China. Because of this, lockdown has to be imposed again and again. Economies around the world are also facing the fear of another wave of Covid. As a result, the demand for crude oil is falling.
4. European countries have launched a campaign to find crude oil in their own countries. The Prime Minister of England, Rishi Sunak has indicated about this. Oil exploration campaign will be conducted on a large scale in the country. Other European countries have also started the same mission.
All these reasons are going to affect India as well. India imports 85 per cent of its crude oil requirement. The fall in the prices of crude oil in the international market will affect India.
According to experts, India will buy Brent crude oil at $ 82 per barrel in the next two weeks, which will affect domestic prices. Petrol and diesel prices may come down by Rs 5 per litre.
For more Business updates, Click here.