Petrol-Diesel Price: Crude oil rose in the international market. Will the prices of petrol and diesel increase?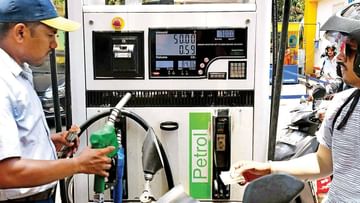 Fuel price hike?
New Delhi : Crude oil prices to increase in the international market in March 2022 (price of crude oil) came straight to the ground. This price has reached the lowest level. The price of crude oil has reached $50 per barrel. After that the price increased a bit. Meanwhile, crude oil reached $ 80-87 per barrel. Crude oil had risen about 9 per cent last week. So in the price of petrol and diesel (Petrol Diesel Price) The possibility of deduction is over now. Oil marketing companies are already grappling with losses. The Union Petroleum Minister has also indicated that no relief will be given until the losses of the companies are recovered.
There was no change in the prices of petrol and diesel on Saturday. There has been no change in the prices of petrol and diesel after May 22. Prices are stable. A few days ago the state government of Himachal Pradesh had increased VAT. Its effect has been seen on the price of diesel. The price rose rapidly.
at the ongoing Auto Expo in Delhi (Auto Expo 2023) Gadkari expressed his views on the matter. India is seriously considering alternative fuels. Some vehicle manufacturers are now producing vehicles that run on 100 percent bioethanol. This will automatically save the cost of petrol.
The policy of the Central Government is to start ethanol pumps all over the country. Work on this plan is going on. For this, Gadkari will meet Petroleum Minister Hardeep Puri in the next 15 days. There is a plan to mix 20 percent ethanol in petrol. For this, 1,000 crore liters of ethanol is required.
In the international market, the price of Brent crude oil increased by 1.74 percent. Its effect was seen on the last day of the week. The prices reached $85.49 per barrel. Last week on January 6, the price of Brent crude oil was $ 78.57.
Brent crude oil prices increased by $8 per barrel in the next five days. This means that the price of Brent crude oil has increased by 9 percent in the last one week. Crude oil prices remained firm during the week.
In the international market, US crude oil WTI reached $ 80.07 per barrel. WTI rose 2.14 per cent in the last trading session of the week. Last week on January 6, the price was $73.69 per baler. That is, the price increased by $ 6.38 per barrel. Will petrol-diesel be affected?
For more Business updates, Click here.