Petrol-Diesel Price: The prices of crude oil are continuously falling, due to which the oil companies are getting a golden opportunity to make up for the losses.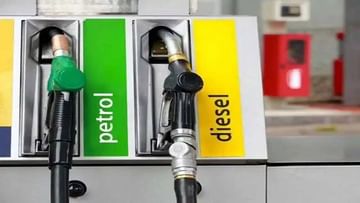 What is today's rate?
New Delhi : Last two weeks have been good days for Indian oil companies. crude oil prices in international market (price of crude oil) continuously falling. Oil marketing companies are getting the benefit of this. Crude oil prices declined on Friday in global markets. The price of petrol and diesel in the country is at this price (Petrol-Diesel Price) are dependent. There has been no major change in the prices of petrol and diesel for more than six months. The daily rate varies from 5 to 30 paise. Fuel prices in every state and city (fuel value) The difference is visible. If crude oil prices fall to the low level of $80 and remain stable for a few days, oil companies can recover their losses.
In the last 24 hours, crude oil prices have fallen by about $ 1 per barrel. Brent crude prices fell. Its price reached $ 82.44 per barrel. The price of WTI fell. This price reached $ 76.14 per barrel.
A decline in Brent crude oil was recorded in the international market yesterday. Yesterday's price was $83.34 per barrel. WTI rates also fell. This price had come down to $ 77.01 per barrel. If this price decreases further, then the companies will benefit a lot.
Oil marketing companies in India announce rates at 6 am. Depending on the same, there is a difference in the price in different parts of the country according to the state tax, local body tax, commission of the pump owner. Based on that, there is a difference in fuel prices in different cities of the country.
Today petrol in Delhi is Rs 96.65 and diesel is Rs 89.82 per litre. Petrol in Mumbai costs Rs 106.31 and diesel costs Rs 94.27 per litre. Petrol in Kolkata costs Rs 106.03 and diesel costs Rs 92.76 per litre. Petrol in Chennai has reached Rs 102.63 and diesel has reached Rs 94.24 per litre.
Ahmednagar petrol Rs 106.68 and diesel Rs 93.19 per litre, Akola petrol Rs 106.20 and diesel Rs 92.75 per litre, Amravati Rs 107.61 and diesel Rs 94.11 per litre, Aurangabad Rs 107.62 and diesel Rs 94.08 per litre, Nagpur petrol Rs 106.70 per liter and diesel 93.23 per liter per litre. Petrol in Nanded costs Rs 108.32 and diesel costs Rs 94.78 per litre.
Petrol in Jalgaon Rs 106.46 and Diesel Rs 92.98 per litre, Nashik Petrol Rs 106.07 and Diesel Rs 92.59 per litre, Latur Petrol Rs 107.19 and Diesel Rs 93.69 per litre, Kolhapur Petrol Rs 106.90 and Diesel Rs 93.42 per litre, Pune Petrol Rs 106.89 per liter liter and diesel Rs 93.37 per liter Petrol price in Solapur is Rs 106.78 per liter while diesel is Rs 93.30 per liter.
For more Business updates, Click here.