PAN Card: Even after giving many opportunities to the Income Tax Department, if you have not done this work then it can become a disaster for you.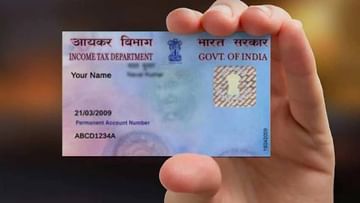 ..then cancellation of pan card
Image Credit Source: Social Media
New Delhi : Income tax department (Income tax department) If you haven't done it after several chances, it might surprise you. Your PAN card can be cancelled. of course for taxpayers (Taxpayer) And all the citizens have been given enough time. The Income Tax Department has been providing this information since last year.
PAN card is the engine of financial transactions of Indian citizens. so aadhar card (Aadhar card) This is an important document. The central government has made it mandatory to link these two cards.
Linking of PAN Card with Aadhaar Card by Central Government for Income Tax Return filing and many other purposes (Aadhaar-PAN Card Linking) has been made necessary.
The central government has given extension for this connection many times till now. Now the deadline has been extended till March 2023. Now the extension has been paid. Citizens will have to bear the brunt of this. because before base (Aadhar card) pan card (Pan Card) The last date for linking was 31 March 2022.
But due to internet problem and corona this deadline has expired (last date) was postponed. At present, a fine of Rs 500 was being charged for linking Aadhaar card with PAN from March 31 to June 30, 2022.
Citizens will have to pay Rs 1000 to link Aadhaar and PAN card after June 30. This period is till 31 March 2022. After this the PAN cards not linked to Aadhaar will be automatically cancelled.
The Income Tax Department has made a tweet regarding this. It has been clarified that if PAN card is not linked with Aadhaar card by March 31, 2023, the PAN cards of citizens will be cancelled.
As per the Income Tax Act, 1961, the last date for linking of PAN with Aadhaar is 31.3.2023 for all PAN holders who do not fall in the exempted category. PAN will be deactivated if PAN is not linked with Aadhaar.
Don't delay, get this link today! pic.twitter.com/mrtqP7nqNL

— Income Tax India (@IncomeTaxIndia) November 18, 2022
Residents of Assam, Jammu and Kashmir and Meghalaya, NRIs and persons above 80 years of age are exempted from this linking.
You have to visit the official portal of e-filing of Income Tax Department. After selecting the option of linking, the following process has to be done. Late fee for this linking (Rs 1000) NSDL You have to fill it by visiting the website.
After paying the late fee, further processing can be done on the e-filing portal of the Income Tax Department. It will take some time for the record of late fee payment to appear there. Citizens will have to wait for at least four days.
You will have to provide your personal name, date of birth, address, mobile number etc. as on Aadhaar and PAN card. If these details do not match with each other, then this linking will not happen.
The SMS facility of the Income Tax Department can be used to check whether Aadhaar and PAN card is linked or not. UIDPAN <12 अंकों की आधार संख्या> <10 अंकों की स्थायी खाता संख्या> For this you have to SMS to 567678 or 56161.



For more Business updates, Click here.