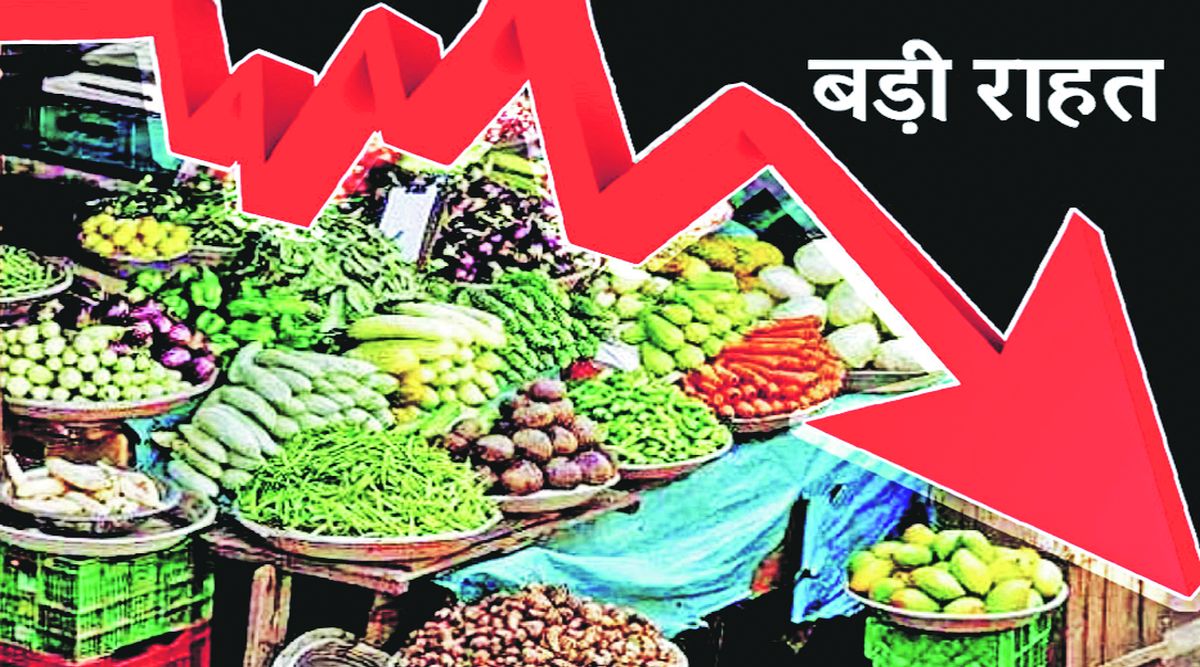 PTI, New Delhi: Inflation, which has been a headache for the Reserve Bank and the central government, has shown a relieving decline in October, while the common man's pocket has been burdened by it. After wholesale inflation, retail inflation, which is the key to hike in interest rates, came down significantly in October.
Retail inflation fell to 6.77 percent
Retail inflation based on the Consumer Price Index declined to 6.77 per cent in October, mainly due to lower prices of food components. While the latest government data released on Monday showed a significant decline of 7.41 per cent over the previous month of September, it remained above the upper end of the Reserve Bank's tolerance level for the 10th consecutive month. According to the latest data released by the Office of National Statistics, the inflation rate in food items came down to 7.01 percent in October, which is about 1.5 percent less than the 8.6 percent in September. Consequently, the retail inflation rate based on consumer price indices also moderated in October.
Marginal inflation, which is the marginal inflation rate taken into account by the RBI in setting its term lending rate or credit policy, has been consistently above its target of six per cent since January this year. Last year i.e. in October 2021, this rate was at the level of 4.48 percent. The failure to keep the inflation rate within the control range of 4 per cent (minus-plus two per cent) for three consecutive quarters has forced the RBI to submit a report to the government giving reasons for the same.
However, an increase in loan installments is inevitable!
RBI Governor Shaktikanta Das in a statement last week had predicted retail inflation to fall below 7 per cent in October. As expected, the rate of inflation has moderated, but concerns about the relationship have not subsided. Therefore, in the bi-monthly policy review meeting in December, the repo rate will be increased for the fifth time in a row and by about 35 basis points and will be taken to the level of 6.25 per cent, expressed Barclays India in the issued note. Hence, home and auto borrowers will face the crisis of higher loan cost and consequently increased installments for some more time.
Wholesale inflation at 19-month low
Inflation based on the Wholesale Price Index was recorded at a 19-month low of 8.39 per cent in October due to lower prices of food, fuel and manufactured articles. The data released on Monday has definitely brought relief to the Reserve Bank, which is trying to rein in inflation. WPI inflation falling for the fifth consecutive month has come down to single digit level after a gap of one and a half years. In the last month of September, this rate was 10.79 percent and a year ago in October 2021, it was in high double digits of 13.83 percent. Earlier in March 2021, the wholesale inflation rate was recorded in single digit i.e. 7.89 percent.
Releasing the data on Monday, the Ministry of Commerce and Industry said the decline in inflation in October was mainly due to decline in prices of mineral oils, basic metals and metal products. The food inflation data is also very reassuring. The rate of inflation in this component was 11.03 percent in September, which has come down to 8.33 percent in October. The prices of vegetables, potatoes, onions, fruits, eggs, meat and fish declined, while those of rice, wheat and pulses increased. Significantly, the inflation of vegetables has come down from 39.66 percent in September to 17.61 percent in October. In October, the price rise in oilseeds was minus 5.36 per cent, while it was 3.86 per cent in minerals.
For more Business updates, Click here.