Government Scheme: The central government has launched a scheme to provide financial assistance to married women.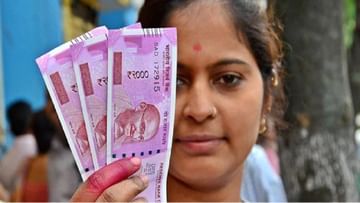 financial assistance to married
Image Credit Source: Social Media
New Delhi : There is a good news for married women. Central government (Central Government) Special Financial Assistance Scheme for Women (Subsidies) started in women's bank accounts (Bank Account) 6000 will be deposited. But, only married women will get this benefit. Let us see how this advantage can be obtained.
Under Matru Vandana Yojana (Pradhan Mantri Matrutva Vandana Yojana) Married people will get this help. According to the scheme, the pregnant women are given financial assistance by the central government. That's why the woman gets help during the delivery period.
The scheme helps in ensuring that the children born are healthy and not malnourished. This scheme provides financial assistance for that. Through him, the woman gets financial help. So the woman can spend on medicines.
In this scheme, pregnant women are given Rs 1000 in the first phase, Rs 2000 in the second phase and Rs 2000 in the third phase. In the last stage after the birth of the child, Rs 1000 is given in the hospital.
This assistance given by the central government is directly transferred to the bank account of the pregnant woman. In case of any problem while applying for this scheme, helpline number 7998799804 can be contacted.
Scheme related information https://wcd.nic.in/schemes/pradhan-mantri-matru-vandana-yojana Available at this official link. In this you will get all the information. All information on how to apply, what documents to submit, can be found on this website.
What are the features of this scheme?
Pregnant woman should be 19 years old
You have to apply offline for this scheme
6000 is transferred by the central government to the bank account in three installments
This scheme started on 1 January 2017
For more Business updates, Click here.