Gold Silver Rates: Gold and silver prices have increased before the budget, what are today's rates?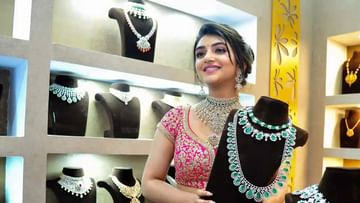 What is today's price?
New Delhi : Gold and Silver Rates in Indian Bullion Market Today, 30 January 2023 (prices of gold and silver) blaze even before the budget (Union Budget 2023) Buyers got drooling while investors benefited from the increase in prices. The price of gold is more than 57 thousand rupees per 10 grams. The price of silver has crossed 68 thousand per kg. 999 pure 24 carat 10 grams gold price is Rs 57,288. So the cost of one kg 999 pure silver is 68,334 thousand rupees. India Bullion and Jewelers Association (India Bullion & Jewelers Association) On Friday evening, the price of 24 carat 10 gram gold was Rs 57,189. The price on Monday was Rs 57,288.
On January 24, gold was at a high of Rs 57,322 per 10. Earlier in August 2020, gold had made a record of Rs 56,200. That is, gold has increased by Rs 1000 in two years. According to experts, the price of gold will reach up to Rs 62,000 per 10 grams in the coming times. Then the price of silver will cross 80 thousand rupees.
According to the official website ibjarates.com, the price of gold rose by 995 pure 10 grams this morning. This rate reached Rs 57,059. So 916 pure gold reached Rs 52,476 today. The price of pure gold increased while that of silver edged up.
The price of pure gold reached Rs 750 to Rs 42,966 per ten grams. The price of pure gold increased by Rs.585. The price of 10 grams of gold reached Rs 33,514. While the price of 999 pure one kg silver was Rs 68,334. The price of silver is expected to rise significantly.
Hallmark is given by the Indian Standards Organization (ISO) to identify the purity of gold. 999 is marked on 24K gold jewellery, 958 on 23K, 916 on 22K, 875 on 21K and 750 on 18K.
There is a strong demand for 22 carat and 24 carat gold from consumers in many places. Both these types of gold are sold in huge quantities. Some people use 18 carat gold. The higher the carat, the purer the gold.
24 carat gold is 99.9% pure. 22 carat gold is about 91 percent pure. 22K gold contains 9% other metals. Jewelery is made using copper, silver and zinc. 24 carat gold is strong. But it is not used for making jewellery. So many bullion traders sell 22 carat gold.
The price of gold has increased in the international market. That's why the central government has increased the base import price. While the base import price on silver was reduced. On the basis of that, the traders importing gold and silver will be taxed.
For more Business updates, Click here.