Gold Silver Price: The price of gold rose again on Friday. Has silver declined?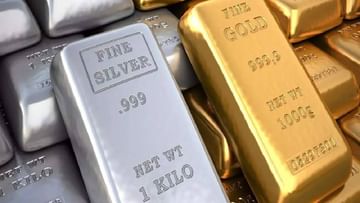 What is the cost of gold and silver?
New Delhi : Impact of Global Developments on the Indian Futures Market (Multi Commodity Exchange) appeared. The price of gold is continuously increasing. so in the international market (International market) Gold and silver showed strength.
Gold and silver as soon as the market opens today (prices of gold and silver) An increase was observed. Today, on January 13, 2023, the rate of gold increased by 0.10 percent. 24 carat gold in the market is initially Rs 55,915 today (Today's rate of gold) At 12 noon, the price of gold increased to Rs 55,941 per 10 grams.
Gold has maintained its growth rate this week. The price of silver remains volatile. Silver fell 0.20 per cent in the early trading session. As soon as the market opened, 999 pure silver was trending at Rs 68,717 per kg. After that the price did not increase.
After that the price of silver again declined. The price of silver fell to Rs 68,338 per kg. Whereas gold had registered a rise in the last trading session. Gold was Rs 55,875 per 10 grams. Silver had yesterday fallen to close at Rs 68,643 per kg. Today was the day of autumn.
Gold and silver prices rose in the international market today. There was an increase in it. Both these metals gained 1 per cent each today. Today's gold rate has registered a rise of 1.2 percent. Today gold is running at $ 1,896.19 an ounce.
A huge increase of 1.33 per cent was recorded in the price of silver. It was trading at $23.75 an ounce. Both the metals gained momentum in the international market. But the price of silver fell in India. Silver declined twice.
Gold and silver prices fell yesterday in the bullion market. Yesterday, 24 carat gold had closed at Rs 56,082 per 10 grams. While the price of silver was Rs 68,754 per kg. Therefore, gold fell by Rs 105 and silver by Rs 572 in the market yesterday.

For more Business updates, Click here.