Gold Silver Price: Gold is shining even today, while silver continues to decline.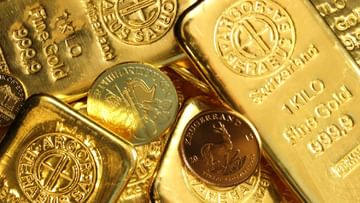 Today's gold and silver rates
Image Credit Source: Social Media
New Delhi : indian bullion market (bullion market) Gold Rate on Friday, 18 November (price of gold) was extended. Silver continues to decline. There has been a huge jump in the prices of gold for the last few days. Gold prices have increased by Rs 2500 in a fortnight. so the price of silver (silver price) 61,000 is out within Rs.
Gold of 999 purity has crossed the mark of Rs 52,000 and silver of 999 purity is ahead of Rs 61,000 per kg. Experts estimate that the price of gold will cross Rs 56,000. Ain Lagnasarai gold prices are on the rise.
www.ibjartes.com According to this official website, the price of 10 grams of gold of 999 purity was Rs 52,952 on Friday. The price of 10 gm 995 pure gold was Rs 52,706, the price of 10 gm 916 pure gold was Rs 48,473 and the price of 10 gm 750 pure gold was Rs 39,689.
The price of 585 pure gold increased to Rs 30,957. The price of gold has increased more than before. Gold is moving towards 56 thousand. 999 pure silver fell to Rs 61,200 per kg.
An app has been made to check the purity of gold. 'BIS Care App' Customers can check the purity of gold through this app. Also, with the help of this app, we can not only check the purity of gold, but can also register a complaint about it.
24 carat gold is called pure gold. It does not mix any other type of metal. It is called gold of 99.9 percent purity. 22 carat gold contains 91.67 percent pure gold. Another 8.33 percent consists of other metals. Also, 21 carat gold contains 87.5 percent pure gold.
18K gold contains 75% pure gold and 14K gold contains 58.5% pure gold. The price of gold also depends on the type of gold. Also, it is inclusive of local taxes and the amount has to be paid by the customer as per the price.

For more Business updates, Click here.