Gold Rate Today: The fall in the prices of gold in the bullion market created a stir among the buyers.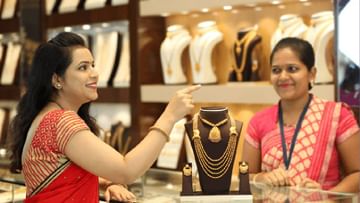 What is today's price?
New Delhi : indian bullion market (bullion market) Gold rate today, 18 January 2023, Wednesday (Today's rate of gold) decline was observed. There was no change in the price of silver. At present, the price of gold is above Rs 56,000 per 10 grams. so the price of silver (silver price today) 69 thousand rupees is more than a kg. National level gold price of 999 pure 24 karat 10 grams is Rs 56,605. While the price of 999 pure silver is Rs 68,661 per kg. in the international market (International market) The demand for gold and silver has increased due to the tremendous impact of recession, corona, war and other issues.
India Bullion and Jewelers Association (India Bullion & Jewelers Association) According to Tuesday evening, the price of 24 carat pure gold was Rs 56,752 per 10 grams. This morning the price was Rs 56,605. It is clear from this that gold has become cheaper while the price of silver has remained stable.
According to the association's website ibjarates.com, the price of 995 pure 10 grams of gold fell to Rs 56,378 this morning. So 916 pure gold reached Rs 51,850 today. A fall of Rs 100 to 150 was seen in gold today. Silver prices remained stable.
The price of pure gold fell by Rs 750 to Rs 42,454 per ten grams. 585 Pure gold prices became cheaper. The price of ten grams of gold came down to Rs 33,114. While the price of 999 pure one kg silver was Rs 68,661.
IBJA does not publish rates on holidays, Saturdays and Sundays declared by the Central Government. To know the retail price of 22 carat and 18 carat gold, customers have to give a missed call to 8955664433. Apart from this, you can also get price information through SMS.
The price of gold has increased in the international market. That's why the central government has increased the base import price. While the base import price on silver was reduced. On the basis of that tax will be imposed on big traders importing gold and silver.
An app has been made to check the purity of gold. Customers can check the purity of gold through this app 'BIS Care App'. Also, with the help of this app, we can not only check the purity of gold, but can also register a complaint about it.
If the license, registration and hallmark number of the goods is found wrong, then the customers can immediately complain about it through this app. Through this app, the customer will also get the information to register the complaint immediately.

For more Business updates, Click here.