Gold Rate: Although gold is touching new highs every day, it has declined slightly during the week.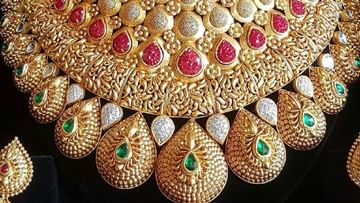 What is the rate of gold and silver?
Image Credit Source: Social Media
New Delhi : Gold and silver rates were announced on Friday in the Indian bullion market. If you look at the latest rate then the rate of gold (price of gold) The uptrend seems to be sustainable, while the price of silver (silver price) There is a slight decline. https://ibjarates.com/ According to this official website, gold prices continue to rise. While there is a slight decline in the price of silver. But if we look at the prices during the week, it can be seen that there has been a slight decline in the prices of gold and silver in the market.
Gold of 999 purity has crossed the mark of Rs 52,000 and silver of 999 purity is ahead of Rs 62,000 per kg. Experts estimate that the price of gold will cross Rs 56,000.
www.ibjartes.com According to this official website, the price of gold of 10 grams of 999 purity was Rs 52,729 on Friday. The price of 10 grams of 995 pure gold was Rs 52,518, the price of 10 grams of 916 pure gold was Rs 48,300 and the price of 10 grams of 750 pure gold was Rs 39,547.
So the price of 585 pure gold increased to Rs 30,847. The price of gold has increased more than before. Gold is moving towards 56 thousand. 999 pure silver fell to Rs 62,266 per kg.
https://www.goodreturns.in/According to this website, the price of 22 carat gold in Mumbai is Rs 48,550 per 10 grams. 24K Gold in Mumbai to Rs.52,970 per 10 grams. 22K Gold in Pune to Rs.48,550 per 10 grams. While the cost of 24 carat gold is Rs 52,970.
48,550 for 22K gold and 52,970 for 24K gold per 10 grams in Nagpur. The 22K gold price in Nashik is Rs.48,580 while the 24K gold price is Rs.53,020 per 10 grams in Nashik.
Today's price of silver is Rs.622 per 10 grams. Gold jewelery prices vary across India due to excise duty, state taxes and making charges.
24 carat gold is called pure gold. It does not mix any other type of metal. It is called gold of 99.9 percent purity. 22 carat gold contains 91.67 percent pure gold.
Another 8.33 percent consists of other metals. Also, 21 carat gold contains 87.5 percent pure gold. 18K gold contains 75% pure gold and 14K gold contains 58.5% pure gold.
For more Business updates, Click here.