Gold Rate Bill: You can get so much gold in just 10 rupees, you will be shocked to see the bill
New Delhi : gold prices (Today's rate of gold) Today it has reached heaven. 10-12 years ago the price of gold was within the reach of common people. After this gold made a tremendous jump. There was a sharp rise in the prices of gold. The price of gold reached beyond 50 thousand. After that the price of gold has reached the level of Rs 60,000. The price of gold is expected to reach Rs 60,000 soon. but you have a bill (bill) One is going to be surprised. This bill of purchase of gold on social media (social media) has gone viral. In 1959, the cost of one tola gold was Rs 113. Today the price of gold is Rs 56,000 per 10 grams.
This bill going viral on social media is of March 3, 1959. About 64 years ago, the price of gold in the country was Rs 113 per tola. This bill belongs to a bullion shop in Maharashtra. The name of the shop is printed on the bill. The name of this bullion shop is M/s Vaman Nimbaji Ashtekar & Company.
The name of the buyer of gold is Shivling Atmaram. According to the bill, Atmaram had bought gold and silver jewellery. The total cost of all these in the bill is Rs 909. One tola is equal to 11.66 grams. Then the price of one gram of gold was 10 rupees. Today its price is Rs 5,600.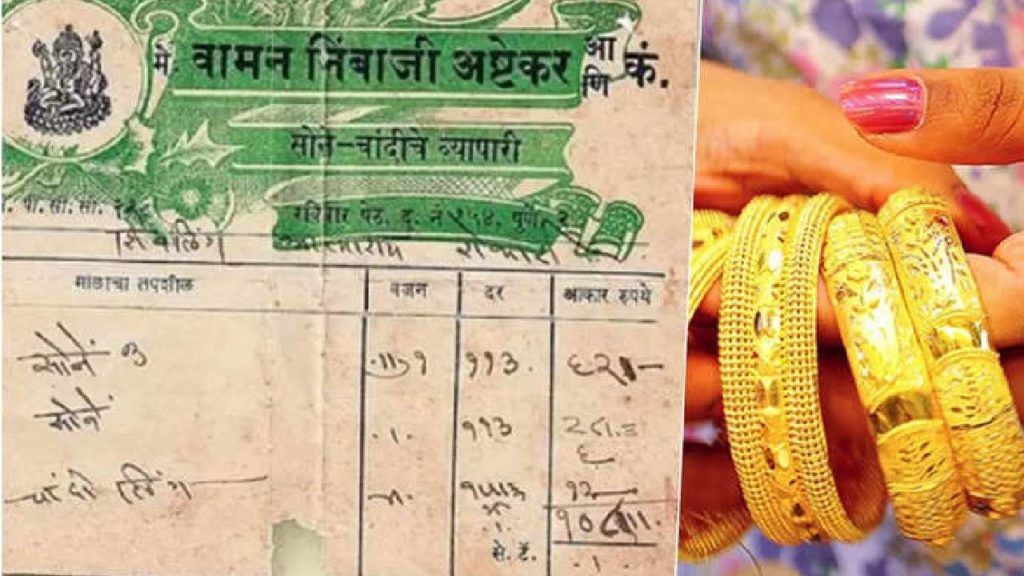 Some users have claimed that gold was cheap at that time. But even then there was inflation. Buying gold was beyond the reach of common people. But gold certainly was never as expensive as it is now. Now gold prices are firm.
A user has claimed that Rs 100 at that time has become Rs 50,000 today. At present, there is talk of inflation all over the world. In such a situation, the earning is being spent only for feeding. There is almost no money left for savings.
A few days ago the whole world saw the bad condition of Sri Lanka. Now Pakistan is also seen going on the same path. Pakistani citizens have to struggle for wheat flour. 150 rupees for one kg of flour. Retail inflation is at its peak.
That's why many customers are upset seeing this old bill. At that time many people were investing in gold. Some of the savings were used to buy gold. But at present the price of gold has increased tremendously. Everyone has got a big shock due to the increase in the prices of weddings.
For more Business updates, Click here.