Gautam Adani: The dark clouds of crisis may be looming over the Adani group, but his group is also active in social work.
New Delhi : The families of many big industrialists in India are pioneers in social work. Industrialists set up foundations in the names of their parents or groups. Various social works are done in the country through this group. This foundation strives to provide education, health and employment to the poor. on Adani Group (Adani Group) At present, the clouds of crisis have started looming. FPI has to be removed from the market. Also, investors have lost faith in them. However, the side of his social work has not come to the fore. Gautam Adani's wife Preeti Adani (Dr. Preeti Adani) by Adani Foundation (Adani Foundation) Through this a great social work has been established.
Many services are running through Adani Foundation. In 1996, Priti Adani took over the responsibility of the foundation's food. He took this decision because of his passion for social work. Adani Group was established in 1988. The family consists of Gautam Adani, his wife Preeti and two sons Karan and Jeet.
Priti Adani was born in 1965 in Mumbai. He graduated from Ahmedabad Government College of Dentistry. After her marriage with Gautam Adani, she stopped working professionally as a dentist. He started the work of Adani Foundation.
Adani Foundation has made a significant contribution in the field of education in Gujarat. The work of this foundation is done from the CSR fund. This industry group has done a great job in increasing literacy in Gujarat. In 2018-19, this foundation has spent Rs 128 crore.
Despite all the difficulties, Preeti Adani has dedicated herself to social work. He is doing great social work through this foundation since many years. Adani Foundation is working in 2300 villages in 18 states of the country.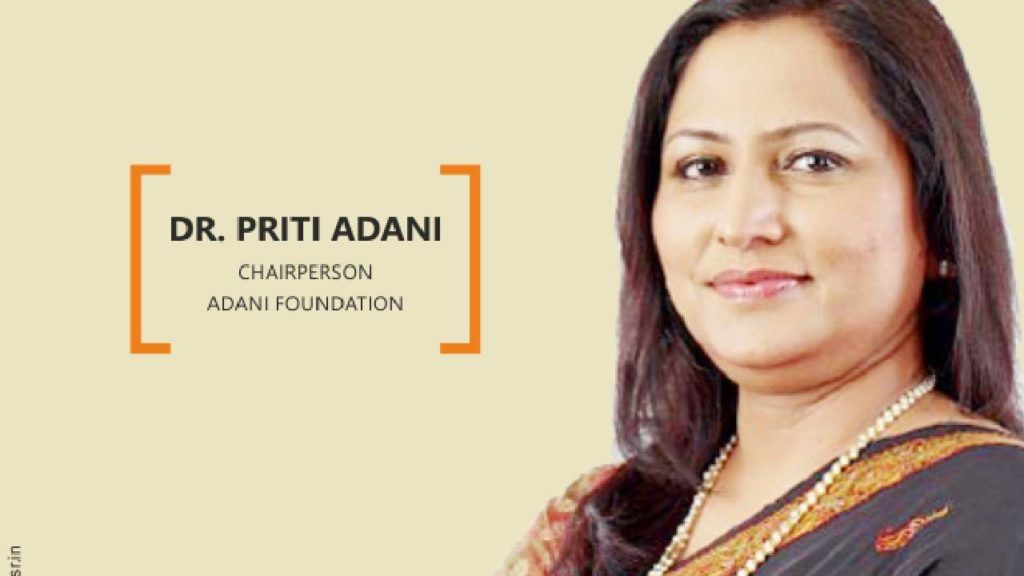 Preeti Adani is working against poverty, illiteracy, malnutrition. Adani's service work is going on in full swing through Utthan, Swachhagraha, Saksham and Suposhan programs. Adani Group is funding this program generously.
While Priti Adani graduated as a dentist, Gautam Adani could not complete his commerce degree due to the hustle and bustle of business. But Preeti's mother insisted, so this marriage was arranged.
In September last year, Gautam Adani's net worth was more than $ 150 billion. Gautam Adani has lost more than $ 86 billion since September. Gautam Adani has so far lost property equal to the GDP of Bulgaria.
According to the Bloomberg Billionaires Index, Adani has lost about $50 billion in net worth so far this year. His net worth decreased by $15 billion in just one day. His net worth dropped to less than $64 billion.
For more Business updates, Click here.