Edible Oil: Increased demand in winter, edible oil increased tension..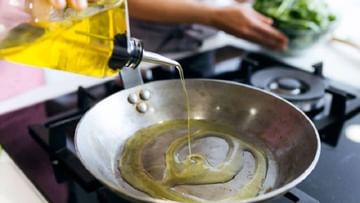 oil prices shot up
Image Credit Source: Social Media
New Delhi : farmers (Farmer) Due to low sales, the prices of edible oil increased in the Indore oil market including Delhi on Saturday. (cost of edible oil) The effect of increased demand for edible oil was also seen in blazing winter. As a result, the prices of Mustard seed, Soybean oil, Cottonseed oil, CPO and Palm oil moved up. (price hike) was
The use of light oil for digestion increases in cold. Consumers prefer mustard, groundnut and soybean oils with higher calories. That's why the demand for this oil has increased as soon as the cold season starts.
According to sources, demand for palm oil and CPO increased due to lower prices. Due to this their market price increased slightly. Being suitable for food, the demand for oil prepared from cotton seeds increased. That's why the rate increased.
Organizations have taken a stand that India should stop importing edible oil and save the farmers by buying their goods. Sameer Shah, President of Gujarat State Edible Oil and Oilseeds Association, has sent a letter to Prime Minister Narendra Modi in this regard.
The organizations are unhappy with the role of the central government this year. In this year 2021-22, the import of edible oil has increased wildly. This year, more than 1 crore 41 lakh tonnes of edible oil has been imported in the country.
The price of mustard oil is Rs 7,300-7,350 per quintal.
The price of groundnut oil is Rs 6,585-6,645 per quintal.
The mill delivery rate of groundnut oil is Rs 15,100 per quintal.
The price of refined groundnut oil is Rs 2,445-2,705 per tin.
Mustard pure ghani oil is Rs 2,250-2,380 per tin.
Sesame oil is Rs 18,900-21,000 per quintal.
Soybean oil mill delivery Delhi – Rs 14,200 per quintal.
For more Business updates, Click here.