Digital Currency: Soon you will be able to use digital rupee.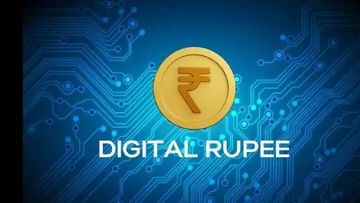 Now you also have digital rupee
Image Credit Source: Social Media
New Delhi : Reserve Bank of India (Reserve Bank of India – RBI) Digital currency pilot project has gathered momentum. Currently it is used by RBI and major banks of the country (Nationalized Bank) This is being done on a large scale. But this digital currency for common citizens (digital currency) The question was being asked that when will it be available. So now soon this digital rupee (digital rupee) You will also have..
digital currency by central bank (cbdc) Now it has been decided to put this digital currency in the hands of common people. For him CBDC pilot program by (pilot program) has been prepared. The responsibility of taking this program to the citizens will be entrusted to four banks.
The Economic Times has prepared a report on this. Accordingly, RBI has prepared a list to take this currency to the common people. in these banks HDFC Bank, ICICI Bank, State Bank Of India, IDFC First Bank The names of these four banks have appeared in this.
Soon after the digital currency is launched in the market, a decision will be taken whether it will be integrated with the existing digital payment app, Method or not. But before that, since there should be a framework of rules about it, it will be considered beforehand.
The CBDC is preparing a pilot project to bring a digital currency to citizens. A list of five banks has been prepared for that. The names of the above four banks have come out in these.
RBI and National Payments Corporation will start this service (National Payments Corporation of India-NPCI) The role will be important. After some customers and merchants participate in the digital rupee pilot project, this digital currency will be opened to all.
HDFC Bank has more than 680 lakh customers in these four banks. It is the largest private sector bank. After that ICICI Bank is the second largest bank in the private sector. This bank has more than 240 lakh customers.
State Bank of India, India's largest public sector bank, will participate in this pilot project. This government bank has more than 45 crore customers today. Another bank IDFC First Bank currently has 73 lakh customers.
For more Business updates, Click here.