Let's see how the marking system of this very important exam will be! An information sheet has been issued by NTA. For each correct answer of the students 5 marks will be given. One mark will be deducted for wrong answer. Let's understand…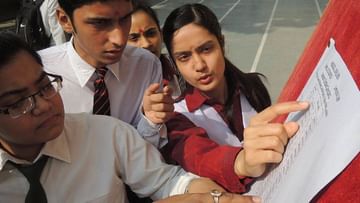 CUET UG Marking System
Image Credit Source: Social Media
Admission to degree courses in more than 40 central universities of the country and many other universities will be done on the basis of 'CUET' marks this year. The result of this CUET 2022 will be released soon. University Grants Commission (UGC) Chairman M. Jagdish Kumar had said that after the declaration of the result, the candidates cuet.samart.ac.in One can download their CUET score by visiting the official website.
UGC Chairman Jagdish Kumar had tweeted on September 9 that the NTA would declare the CUET results by September 15.
Due to this tweet, it was said that this result can also be declared within 15th. But so far no result has come out.
The result can be declared anytime. CUET exam is very important for the students. The final answer key will be released along with the CUET result. All these will be available on CUET Samarth Portal.
Let's see how the marking system of this very important exam will be! An information sheet has been issued by NTA. For each correct answer of the students 5 marks will be given. One mark will be deducted for wrong answer. Let's understand it…
Five marks will be awarded for each correct question.
One mark will be deducted for each wrong answer.
If you do not answer a question, zero marks will be awarded for it.
If more than one option is found to be correct, five marks are to be awarded to the students who answered correctly.
If all the options are correct, the student who answers the question will be awarded five marks.
If any option is not correct or a question is incorrect or a question is omitted, five marks will be awarded to such students, even if they attempt to answer such questions.
Universities and colleges have started the UG admission process. On 12th September, University of Delhi launched its admission portal and made the applications available for the candidates.
For more Business updates, Click here.