Paytm investors have got a huge financial blow. The company's stock has been declining for the last two weeks.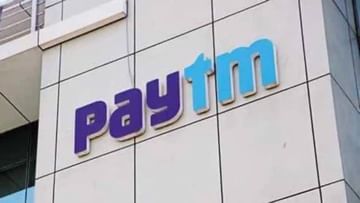 Paytm
Image Credit Source: Social Media
Mumbai, For Paytm Investors (paytm share today) Had to bear a severe blow today. Paytm operates India's largest payment platform. Tuesday intra-day (Intraday) Its shares fell nearly 10 per cent on the BSE. The stock also fell from its previous low of Rs.511. This is the all-time low for Paytm shares. Earlier on May 12, 2022, Paytm's stock had closed at Rs.511. The stock was trading at Rs 492.15, down 8 per cent, in the morning session.
Paytm shares are continuously falling
The stock of fintech company Paytm has declined by 26 per cent in the last two weeks. Paytm's share price has fallen more than half, or 64 per cent, in the last one year, compared to a 4.8 per cent rise in the benchmark index. Currently, Paytm shares are down 78 per cent from their IPO price of Rs 2,150 per share. The stock touched a record high of Rs 1,961 on November 18, 2021.
Investors are selling shares in a hurry
Explain that investors are continuously selling their shares in Paytm. On 17 November 2022, SoftBank Group Corp sold 4.5 percent stake in Paytm for Rs 1,630 crore through a block deal. SoftBank Vision Fund (SVF) India Holdings (Cayman) sold shares at Rs 555.67. Post this transaction, the stake of SVF India Holdings (Cayman) in Paytm has come down from 17.45 per cent to just 12.93 per cent by September 30, 2022.
how strong is the company's foundation
Paytm currently has 337 million users. More than 2.1 crore merchants are associated with the company. With these figures, it is India's leading digital ecosystem. Paytm facilitates payment services, mobile banking, loans, insurance and money broking services for consumers and merchants.
For more Business updates, Click here.